Kleiner Konzertsaal
Duisburg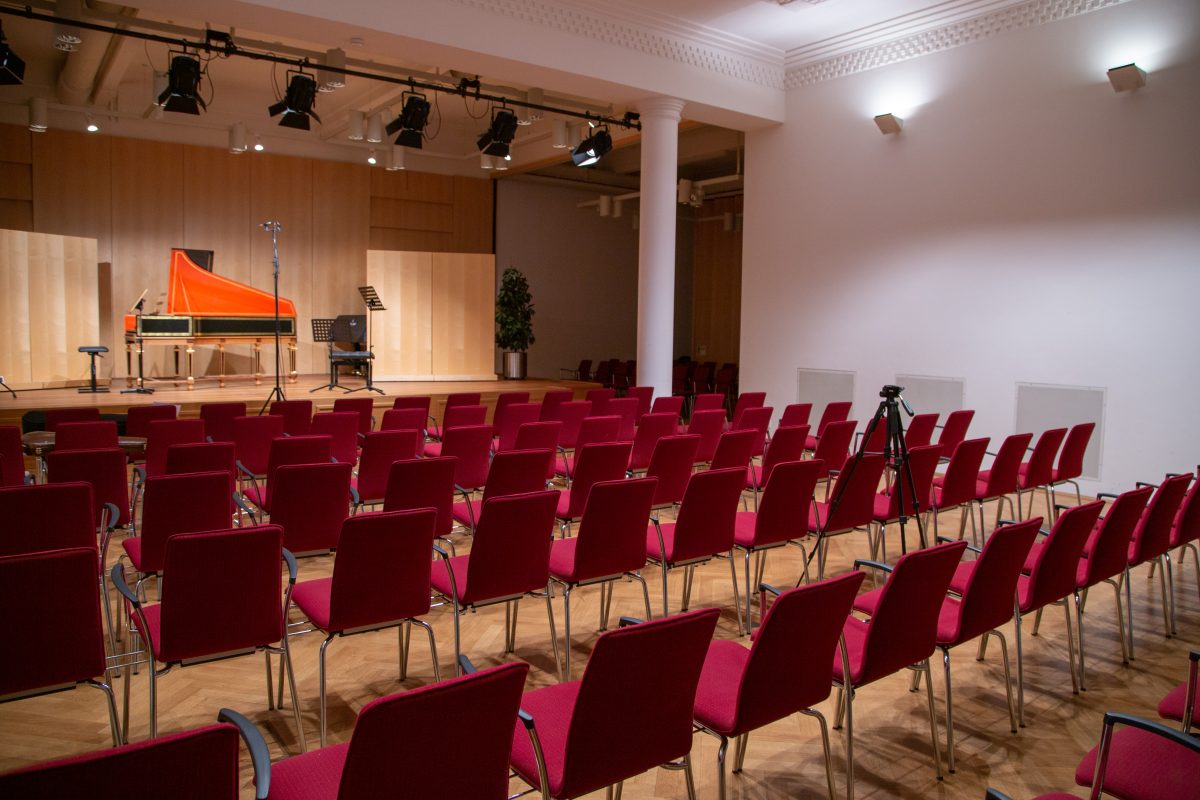 From bench to concert hall
In October 2003, the small concert hall at the Duisburg location of the Folkwang University of the Arts was opened in the counter hall of the former bank building.
The concert hall in Duisburg is an ideal event location for numerous events. Various events can be organized in the event rooms of the concert hall. Already the foyer welcomes the guests with an inviting atmosphere. The hall itself was redesigned in consideration of the preservation of historical monuments and extended by two side wings.
Two partition walls, which can be opened depending on the size of the orchestra, were newly installed in appealing light wood. Convince yourself of this unique event location!
utilisation possibilities
Atmosphere and acoustics
150 wine-red upholstered chairs, noble wall paneling in light maple, the beautifully restored historic stucco ceiling: visually, the small concert hall already presents itself as a cultural gem. The two side wings next to the stage and the glass ceiling above the auditorium lend the room breadth and freedom. The expandable stage offers space for up to forty musicians and is thus suitable for classical chamber orchestra instrumentation. The concert hall in Duisburg is a wonderful event hall and is ideal for your event.
But the Duisburg hall reveals its true greatness when the first notes ring out: The unique acoustics enchant everyone present in the hall! The concert hall convinces with its balanced, transparent sound and conveys a spatial impression in which the listeners feel acoustically included in the events. Here one listens with pleasure! That is why concerts can take place in this event location excellently.
This is mainly due to the cooperation of Prof. Dr. Jens Blauert from the Ruhr University Bochum. The scientist, who has won several awards worldwide and specializes in "spatial hearing," has been applying his findings as a spatial acoustics consultant for many years. The reverberation time corresponds to that of renowned
Area
total area of the hall approx. 215 m²

stage area approx. 70 m²
Maximum seating capacityt
Lighting
fixed concert lighting

in addition, a maximum of 48 circuits can be controlled via a lighting interlocking system
Sound
general sound reinforcement

CD/MC/MD playable via control desk

light and sound control for the hall can be controlled from a separate booth with a view of the stage
Konzertsaal Duisburg
Düsseldorfer Str. 19
47051 Duisburg
Contact
Annika Greskämper